LOANDO DIRECT
– is a contact centre and financial operator that focuses on getting to know the potential customer as well as managing information about them, and reaching them effectively through many communication channels. The LOANDO Direct team also specialises in direct sales and offline channels. Thanks to the unique technology of sending applications directly to loan companies and software with self-service functionalities, dedicated to another call center, successfully surpasses the competition.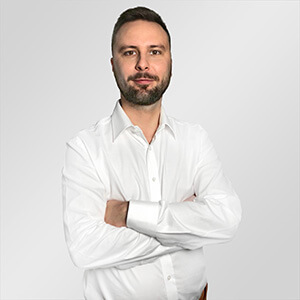 Marcin Sikora
He's been a member of the #TeamLoando since 2017. He's passionate about sales and practiced it for over 10 years. He's got experience in international financial institutions as manager. He specialises in consumer finance and fintech markets. He gained experience by managing regions and external distribution channels for entities such as Żagiel SA, Eurobank or FM Bank. Prior to taking the position of Managing Director in the LOANDO Group, he headed one of the leading operators of financial products, effectively building and developing a network of over 1000 cooperating points of sale. His interests also include new technologies and the start-up market. Privately, he's passionate about riding a motorcycle and a quad bike.
Why work with LOANDO DIRECT?

An experienced contact centre

team with over 20 staff

We reach a very large number of customers

we serve over 10,000 customers a day

A vast sales network with over 1,000

stationary retailers throughout Poland

An intuitive application

to sell products available to Partners